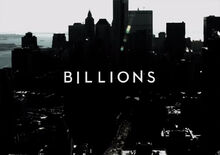 Billions is an American television drama series created by Brian Koppelman, David Levien, and Andrew Ross Sorkin, starring Paul Giamatti and Damian Lewis, that premiered on Showtime on January 17, 2016. The series is loosely based on the activities of Preet Bharara, the former U.S. Attorney for the Southern District of New York,[1][2] and his legal battles with hedge fund manager Steve Cohen of S.A.C. Capital Advisors.[3] In Season 2, it also incorporates loosely the cases involving Treasury bond auction market manipulation conduct of Salomon Brothers, including the roles of CEO John Gutfreund and bond trader Paul Mozer, in 1991.
Three seasons of Billions have aired. On April 26, 2018, Showtime renewed the series for a fourth season, which premiered on March 17, 2019.[4][5]
 Summary
[
]
Billions stars Paul Giamatti as ruthless U.S. Attorney Charles "Chuck" Rhoades, Jr., and Damian Lewis as affluent hedge fund tycoon Robert "Bobby" Axelrod, for a look at the lives of New York City's wealthiest and most corrupt influencers in the overlapping worlds of business and politics.
Cast
[
]
Main
[
]
Recurring
[
]
Episodes
[
]
Main article: Episodes
Production
[
]
The series was ordered by Showtime in March 2015 with a 12-episode pick up and premiered on January 17, 2016. On January 26, 2016, the series was renewed for a second season, which premiered on February 19, 2017.
Showtime confirmed in April 2017 that Asia Kate Dillon would be a series regular in season 3.[22] Billions is considered to be the first American TV series to have a non-binary character.
 Reception
[
]
Billions scored the best series debut performance ever for a Showtime original series with its premiere debut drawing 2.99 million views.[6] Billions has received generally positive reviews. On Rotten Tomatoes, the series has a rating of 71%, based on 32 certified reviews, with an average rating of 6.5/10 for its first episode. On a review by Entertainment Weekly, the series received a B+. Author Melissa Maerz described the series as "a wildly over-the-top but thoroughly entertaining soap opera, and it works because it follows the same philosophy Bobby does: If you want to succeed, you don't have to be the smartest one in the room. You just have to be shameless." Internet Movie Data Base (IMDB) rated the series with a 8.4/10, based on 2,510 reviews.
References
[
]
External links
[
]